Farming and Countryside
Pete Everitt
I am Pete Everitt, a relative new-comer to Colsterworth. I was born 54 years ago in High Wycomb, Buckinghamshire. I didn't stay there very long. My parents moved up to a place called Coddington which is north of Newark on the A17. I spent most of my formative years there. I grew up next to a farm and went over to the farm in my spare time and I never wanted to do anything other than farm. My father wasn't a farmer. He was actually a sales rep and my mother was a tailoress. After school I went to agricultural college, the local Lincolnshire college at Caythorpe. My gap year was spent down in a village called Clipsham (where the Yew Tree Aisle goes up to the Davenport-Handley's house). I worked for a gentleman called Ralph Featherstone. Read more....
David Howitt
I am David Howitt and I was born at Stainby but I now live at Skillington. I was born in 1946 and I was a big boy when I was born, eleven and a half pounds. I went to Stainby Primary School. There were 12 of us in the school at the time that was all. Then I went to King's School at Grantham for five years. I enjoyed it there up to a certain point but I was always associated with livestock and nobody was interested in that sort of thing at the school, it was all book-work. The thing that I did enjoy was the sport. I used to play cricket and rugby for the King's School. When I left school I played football for South Witham on Sundays and rugby for Kesteven Rugby Club on Saturdays every weekend when I wasn't working. I went to work for a farmer at Stainby, Mr Thompson, and stayed 7 or 8 years doing general work on the farm but mostly sheep. Then I went to work for a gentleman at Saxby near Melton Mowbray because I got more money and there were more sheep. I worked there for five years and then I was offered a better job working for Mr Bradley at Skillington. He was going to have a big sheep flock and wanted a shepherd who was capable of looking after a lot of sheep. Read more....
Brian Ostler
My name is Brian Ostler and I come from Boston, Lincolnshire. I left school at fourteen and went to work on a small mixed farm just the other side of Skegness of about sixty acres, with a bit of arable and about a dozen milk cows. There was only myself and the boss on the farm at that time. It is amazing to me how things have changed in as much as a lot that was done by hand has been taken over by machinery such as ditching, hedging and that sort of thing. In the winter you were fully employed, for instance seeing to the drainage. All the land drains were put in by hand. Read more....
Jane Ostler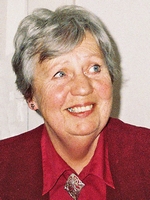 I am Jane Ostler and I live on Woolsthorpe Road. My husband and I moved here in 1980. Both of us are Lincolnshire born and bred and rather happy about that. I am from Skegness and my husband is from Boston. I lived at the north end of Skegness but we moved to the south end, near the golf course, the posh part after my mother died. Read more....
Joyce Stubbs
My name is Joyce Stubbs. I was Joyce Duffin before I was married. I was born in Nottingham Hospital by caesarean section; I have lived on the Easton Estate all my life. I went to Stoke Rochford Primary School and then on to Kesteven Girls' School. After that, I studied at Newcastle-upon-Tyne University and gained a B.Sc. in Agriculture. It all seems a long time ago now. I did work experience on various farms. I worked on the Estate for a year before I went to Newcastle and, during the holidays, I worked for Stubbs at Lodge Farm, Colsterworth, helping with the harvest, driving tractors, stacking bales and so on. I met my husband, David Stubbs, whilst working there. His family have farmed at Colsterworth since 1955. David himself was actually born at the farm in the days when people had their babies at home, and unfortunately he died there last year. When we got married we lived in Keeper's Cottage in the Park at Easton and then when my father-in-law retired we moved to Lodge Farm. Read more....